Price List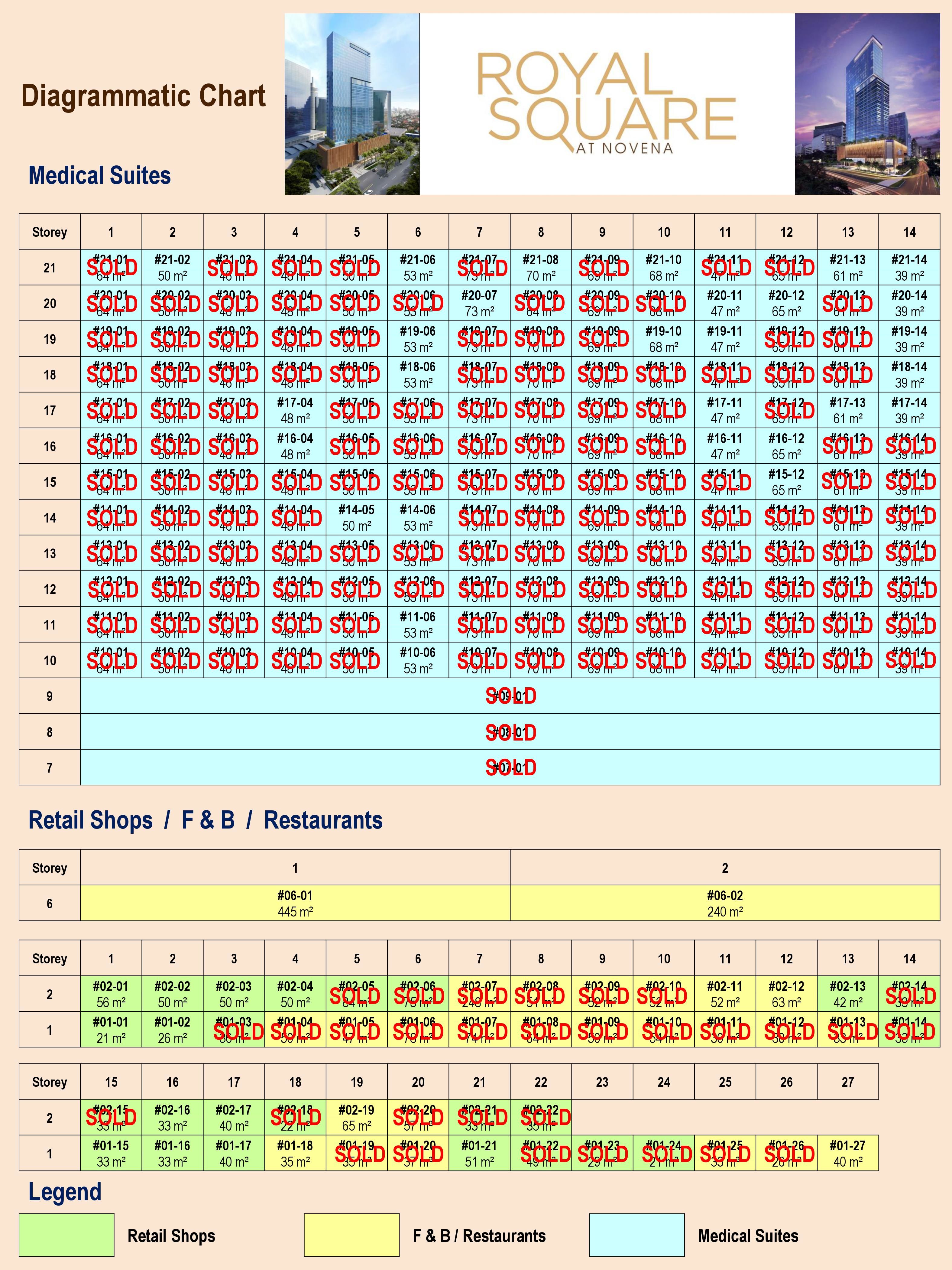 The project is the brainchild of a major hospital in the region that envisaged turning the area into a mega health city. Buying into Royal Square will place clients at the pinnacle of this great medical precedent.
The Singaporean Government offers great incentives for both local and foreign investors looking to invest in the region. There are no Seller Stamp Duties imposed and no restrictions on loan facilities are imposed. These factors make commercial properties in Singapore quite scarce and in high demand. The fact that Royal Square at Novena will host rare sought after medical suites combined with shopping complexes bring out the need to invest sooner rather than later.
Royal Square offers a rare opportunity to enjoy great capital appreciation rates due to its location right at the center of a future Health Novena. It is a once in a lifetime opportunity to own and be part of the rapidly expanding medical revolution in the heart of Singapore. It is a mixed development concept where shopping malls and medical facilities are offered under the same roof confer an element of convenient integration.
Retail Shops
#01-15 $3,043,000 (355sqft)
#01-21 $4,650,000 (549sqft)
#02-16 $2,246,000 (355sqft)
#02-03 $3,405,000 (538sqft)
#02-01 $3,816,000 (603sqft)
Restaurants
#01-18 $3,194,000 (377sqft)
#02-11 $3,629,000 (560sqft)
#02-19 $4,536,000 (700sqft)
#06-01 $23,470,000 (4790sqft)
#06-02 $13,190,000 (2583sqft)
Medical Suits
#16-04 $2,517,000 (517sqft)
#14-05 $2,528,000 (538sqft)
#14-06 $2,678,000 (570sqft)
#14-07 $3,735,000 (786sqft)
#16-11 $2,479,000 (506sqft)
#16-12 $3,374,000 (700sqft)
#14-14 $2,041,000 (420sqft)
* Price and units quoted subject to change and availability without prior notice*
For Full Price List, do fill in your request below: