Project Details
Royal Square at Novena is a thirty-three high integrated development project located at a prime locale at the junction of Irrawaddy Road and Thomson Road. The commercial and medical mega complex project is located at the District 11 in the Central Region of Singapore in what has historically been known to be a medical hub.
Novena has been associated with the medical profession and is generally known to be Singapore's medical precinct. Tan Tock Seng Hospital (TTSH) set the precedent when it was established over 100 years again in 1909. The region is the largest healthcare city and hosts a variety of volunteer and these are tied to a medical school to form the juggernaut, Health City Novena. The area is deemed prime due to its central location and great infrastructure network. The greater plan is to connect the various buildings and complexes through a network of bridges, roads and underground basement car parks.
Royal Square at Novena will cover a total acreage of 6,676.8 square metres or 0.66 hectares and will have a gross floor area of 28,043 square meters. The maximum building height will be estimated to be 153 meters above sea level.
Royal Square location will be easily accessible via major roads and expressways such as the CTE, PIE Changi Airport and the yet to be constructed NSE. The MRT will also provide access from Royal Square to all parts of Singapore especially the downtown area. It is relatively close to major roads like Newton Road, Moulmein Road and Thomson Road.
A grand drop off area which leads to the hotel lobbies and well equipped medical suites, along Irrawaddy Road will allow guests, visitors and the general public to access to the expansive facility. Novena MRT and a nearby bus stop are linked through a sheltered link way all the way to Novena Square.
Royal Square Property Developers
Hoi Hup Sunway Novena Pte Limited is a consortium comprising of Hoi Hup Realty Pte Limited and Sunway Development Pte Ltd. They are a well-established and reputable developer company that are based in Singapore and was established in the year 1993.
Royal Square Developer involved in high-end mammoth projects like Residences at Killiney, Vacanza @ East, Miltonia Residences and among many other sterling projects.
Hoi Hup Sunway has received numerous awards and accolades due to their diverse portfolio and these include The BCA Best Buildable Design Award merit in the year 2007. During the year 2008, they won the award for Construction Excellence Award due to their great work in the De Royale Condominium. They also acquired the much desired and coveted SME Awards 500 to earn their rightful place in the developer's annals of history.
Sunway Developments Pte Limited is a wholly subsidiary of Sunway Developments Pte Ltd which is part of the conglomerate Sunway Group Company. ITs core business portfolio includes the provision of building materials, property developments, design and construction, real estate appraisals and REIT, leisure and education institutions and facilities, information technology and hospitality industry buildings and design.
Sunway has forged formidable alliances with like-minded institutions and global investors such as the Government Investment Group of Singapore (GIC), Kuwait Fiance House, Goldman Sachs, Malaysia Provident Fund and Sunway Reit to finance and embark on a number of world class projects.
The Hoi Hup Sunway consortium has worked on the project both in the private and public sector and has also engaged in a wide range of Design and Build projects. This consortium has designed and implemented a wide range of innovative products like lift upgrades and a toilet and sewer system for prefabricated buildings to cater for the ever increasing demands of a dynamic town first-century market. Details of Royal Square Price available.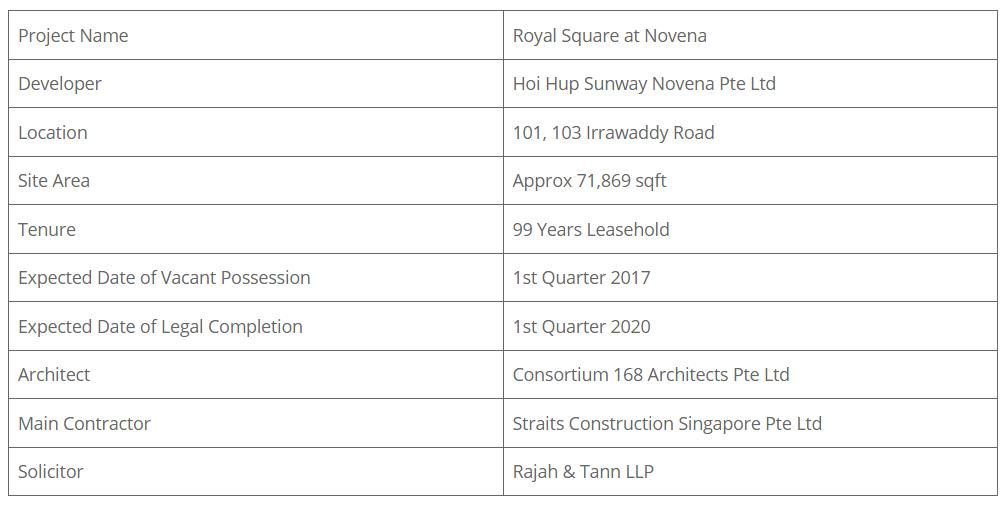 Royal Square @ Novena specifications:
Retail shops and Restaurants on 1st, 2nd and 6th storey
Medical Suits on 7th – 21st storey
Eight Courtyard by Marriott Hotel (250 rooms) on 22nd – 33rd storey
Multi-storey car parking with hourly parking rate for visitors
Structural Loading for 2nd story 4KN/m2 (F&B & Retail); 5KN/m2 (Medical Suites)
Electrical Rating 40A – 200A (F&B); 32A – 80A (Retail); 400V-3 phrase (Medical Suites)
Maximum Lighting Power Budget 15.0W/m2 (F&B); 25.0W/m2 (Retail); 8.0W/m2 (Medical Suites)